My first date was the worst date
4/25/12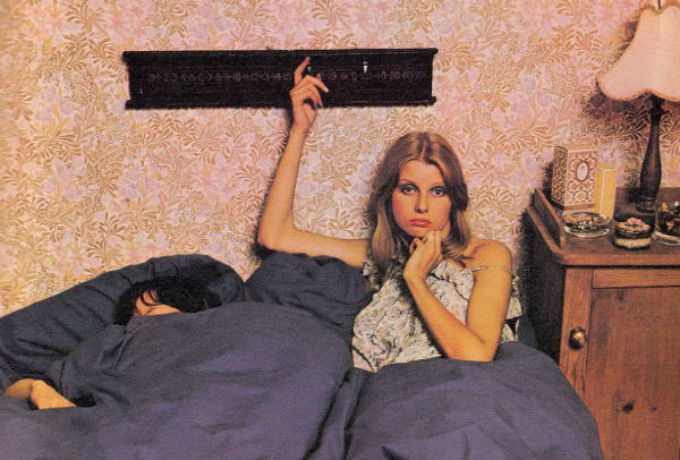 When I was 16 years old, I went on my first date. No, it wasn't one of those
Sandy Olsson
loves
Danny Zuko
kind of dates where we meet and dote on each other on a
beach
and then later sing "
tell me more, tell me more
" on the bleachers at school to our friends, it sucked. It completely and utterly sucked.
You see, my first date ever was the worst date ever. I was the worst date ever.
I was going through puberty, I felt gross, I was shy around boys, and I felt insecure and was unsure of myself because what if someone found my copy of the Sabrina the Teenage Witch soundtrack and exposed me? And then there I was, going on a date with a dude I had a crush on who was a few years older than me. It was real precious teenage dream stuff.
He picked me up at my house - real traditional stuff - only after coming inside for a few minutes which of course, made me want to die. I was melting like butter, butter on a skillet, because I was embarrassed of everything then: the photos of me on our walls, the carpet in the living room and the awkward atmosphere I thought was created because my parents were standing there watching (but really, it was just my demented teenage brain that was creating the awkward atmosphere).
We left in his super awesome truck and were on our way to dinner at a restaurant I recommended because I liked it.
We arrive, we order and then it happened – I become a mother fucking mute. Remember how I said I was shy? That, plus nervous, equals forgetting how to act like a normal human being; suddenly, I had forgotten how to talk. I forgot my name, my interests, the year - I thought if I opened my mouth, I'd puke - and I was so fixated on thinking of something to say, I couldn't think of ANYTHING to say.
It's not like I didn't like him, I thought he was super dreamy, I was just so in my head that I couldn't act normal.
He'd ask a question, I'd answer and then there'd be silence. A normal person would reciprocate the question, or carry the conversation onto a new subject, but not me - I sucked at this hard. My brain was like the egg in the "
brain on drugs
" commercial with Rachel Leigh Cook, it was bad.
The food came and I thought, "cool, I can dilute this silence with the fact that my mouth is full so there's a reason for the silence." Sike. I couldn't eat. I was way too nervous for that, yet I was the girl who picked the damn place because I went there at least every other week with my friends and cleaned my freaking plate like I hadn't eaten since I hit puberty.
My favorite part was when the server came to see if we were done and I said yes. He looked at me like I was crazy and asked "you aren't going to eat?"
More butter melting here.
We went to a movie after that mess, which was super awesome because I ripped my jeans while getting into his truck on the way there. My Old Navy jeans ripped right next to the zipper, of all places. Why? Why not is the answer? What 16-year-old girl wouldn't enjoy her affordable, yet poorly made light wash, low-rise, bell bottom jeans tearing on her first date?
Oh, and you bet I was too embarrassed to say ANYTHING about the breeze near my crotch because Lord forbid I make this night weirder. So I covered it up with my clutch and tried to stay still for the rest of the night. Picture me walking with my knees glued together to deter it from tearing more. Picture me standing in the lobby afraid to move while he played video games in the arcade before the movie. I just looked like the big bitch who didn't want to be there.
I was thinking/embarrassed about the rip so much, I was even more silent. You didn't think that was possible did you?
And in case you were worried that he wasn't going to make at least one move on me, he didn't. He may as well have sat six rows behind me during the movie.
The date ended, he dropped me off and that was that. Solid gold right there people. I'm pretty sure he hit on one of my friends not too soon after making my teenage life even more awesome. Oh, and you can bet I was embarrassed for weeks. I even felt like I should have sent a thank you card for not leaving me with the custodian at the movie theater.
Of course, I've learned how to converse with the opposite sex since then, and I eat, and if my pants rip, it's not a big deal. You live and learn. Sometimes dates suck and to the people out there who have haunting memories like this, you're not alone.
What was your first date like? Good/bad? Can't talk about it?