Creepy vs. not creepy
3/24/11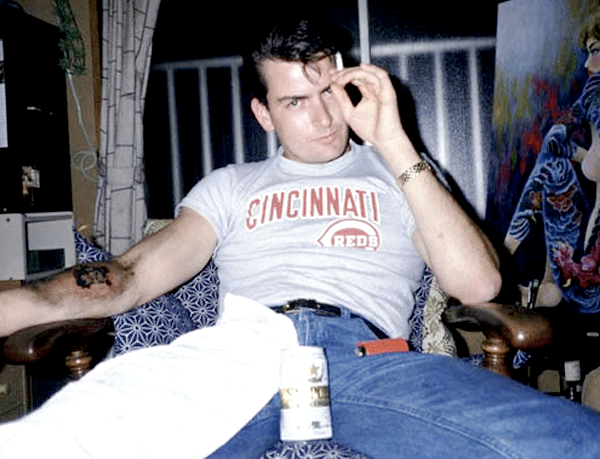 Creepy photo brought to you by Charlie Sheen
"Some guy told me I was so beautiful that it made him want to be a serial rapist."

Creepy?

There is a word women use too causally to describe a lot of male behavior: the word is creepy.

It's a term that's abused and used frivolously in the least proper ways.

Wearing socks with sandals isn't technically creepy; a guy who video tapes you while you sleep is creepy.

I'm guilty of saying it. I try really hard to make sure when I consider someone creepy, he's truly being a creep. You have to earn the title.

So what's the difference between flat out creepy behavior and not?

Creepy behavior is answering a text with "who is this?" and receiving a picture of a shirtless guy who looks like "the situation" pointing to himself in the mirror and smiling. Don't answer that, unless he's your boyfriend. If there weren't such things as textually transmitted diseases before, there are now.

Creepy behavior is not receiving a text from an old friend or someone you met who YOU gave your number to. Don't blame him, blame the Grey Goose you had last night.

It is a guy who completely interrupts your night out with friends while you're in the midst of a conversation, lingers at your table even if no one is talking to him and later introduces himself to your other friends who arrive late as if he came with your friends: clinger alert.

It is not a guy who politely approaches you and your friends at a bar during an opportune moment (like when you aren't in deep conversation about your personal life or manic depressive state you've been in lately and why are you talking about that in a bar anyway?). If you don't want to be approached, go hang out at library.

It is approaching you and your friends and asking what your bra size is, if you like it from behind and if it hurt when you fell from heaven. And he's serious.

It is not asking how you are, what you do and what your interests are.
It is making crude jokes about bananas, comparing them to "himself" and then asking for your number while in the produce section.
It is not striking up a conversation about fruit just because. People are friendly sometimes. Shocking, I know.

It is dropping by unexpectedly because you didn't answer 14 of his phone calls.

It is not dropping by unexpectedly when he knows you're sick or being held hostage because you have disclosed the information in a nonchalant, non-direct invite sort of way.

It is when a stranger calls you out for not wanting to give a guy like him--homeless--a chance and basically drop your pants because he called you beautiful. In public. In the middle of 40 plus people.

It is not a stranger saying you're attractive and carrying on his merry way. Take the compliment and say thank you. Don't be a bitch.

It is mentioning a conversation you had with your brother on your brothers' page who he's not friends with and technically doesn't know of his existence because you haven't mentioned him before. That's stalking.

It is not mentioning something he saw you post on Facebook (he's not stalking you; you just publicly disclose where you "check in" every 30 minutes. Get over yourself).

If it's genuine, it's not creepy. At least until it involves someone on Megan's Law.